Detour® Extra-Anatomical Urinary Diversion
September 29 2021 by
2021 by Dr. Ioannis K. GOUMAS Head of Urology, Clinical Institute Beato Matteo, Dept of Urology, Milan, ITALY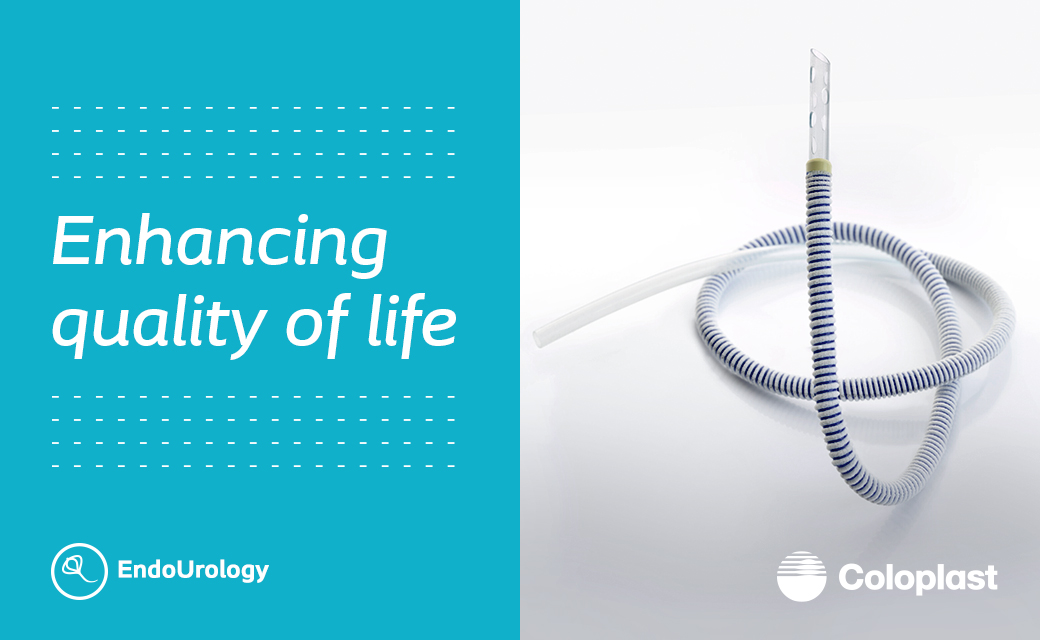 "He has weathered personal tragedies that would level most."
Maria Popova
Abbreviations
BUO: benign ureteral obstruction; DJ: Double-J, Double loop ureteral stent; EAUD: Extra-Anatomical Urinary Diversion; LUTS: Lower Urinary Tract Symptoms; UTI: Urinary Tract Infection; MUO: Malignant Ureteral Obstruction; PCN: percutaneous nephrostomy; Pts: patients; UTI: Urinary Tract Infection.
Ureteral stenosis and secondary obstruction of the upper urinary tract may cause various symptoms as pain, infection and loss of kidney function. Based on the origin of the obstruction, ureteral stenosis can be divided into:
malignant (malignant ureteral obstruction or 'MUO') or
benign (benign ureteral obstruction or 'BUO').
MUO is caused by direct invasion or extrinsic compression of the ureter by different kind of tumors, mostly of the colon, uterus and ovaries, retroperitoneal masses.
Standard options for urinary diversions in complex ureteral stenosis, and their related constraints
The treatment of these complex ureteral stenosis can be challenging. In such cases, oncologic patients are fragile, immunosuppressed and have a complex medical history with multiple previous surgical procedures, chemotherapy and/or radiotherapy.
Traditionally, there are 2 main options for the management of the MUO: ureteral stents or a percutaneous nephrostomy (PCN).
Stents are double-J or metallic expandable, and can be placed in a retrograde or antegrade fashion. Unfortunately, not always is possible to insert a ureteral stent due to the complete occlusion of the ureteral lumen. Furthermore, in almost half of the cases the stents fail to drain the upper urinary tract because of the tumor progression and the extreme compression or invasion of the ureter. Moreover, complications like pain, LUTS, hematuria, encrustation, UTI are frequently present and impairment of the kidney function has been reported. Finally, stents are not permanent and they need to be substituted in the operating room on a regular basis, depending on the type of stent and the patient's characteristics.
Alternatively, a PCN can be placed requiring an external collection device. Even if PCN in most cases guarantees the urinary drainage, a significant loss in quality of life has been reported due to discomfort, skin erosion, necessity of complex appropriate management, limitations of the patients' every day and social activities, risk of obstruction and accident removal, UTIs and necessity of frequent substitutions.
The Extra-Anatomical Urinary Diversion
Extra-anatomical urinary diversion (EAUD) with Detour is an option for the treatment of MUO. It consists of a specially designed reinforced silicone tube with a 27 Fr (9 mm) external and 17 Fr (5.8 mm) internal diameter that connects the renal cavities to the bladder.
The Detour bypass is placed into the kidney through a small incision to the flank, then it runs subcutaneously and finally it is connected to the bladder dome through a small incision in the hypogastric region. It is extra-anatomical because it avoids the abdominal cavity, and it can be placed regardless of the patency of the ureter.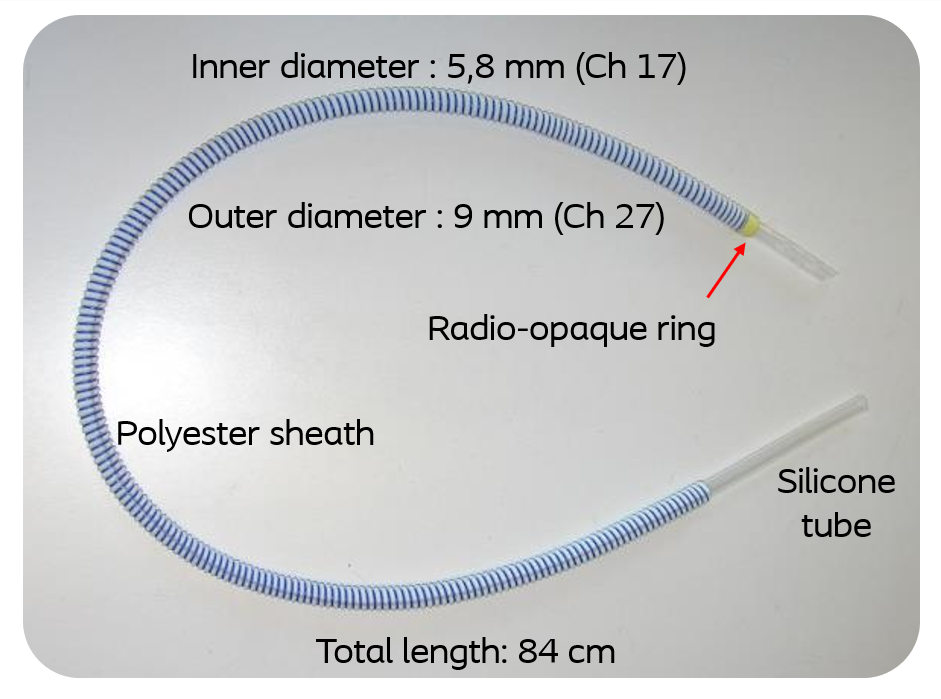 Which are the indications for EAUD?
The main indication of EAUD is the palliative urinary diversion in selected oncologic patients requiring a PCN.
Moreover, EAUD can be an option in cases of failure, complications or intolerance to a stent where an external diversion with a PCN would be the only solution.
Finally, the EAUD can be an ultimate solution in selected patients with complex ureteral stenosis of benign origin, when a stent has failed or it is not feasible to insert and when reconstructive surgery is not indicated or has failed.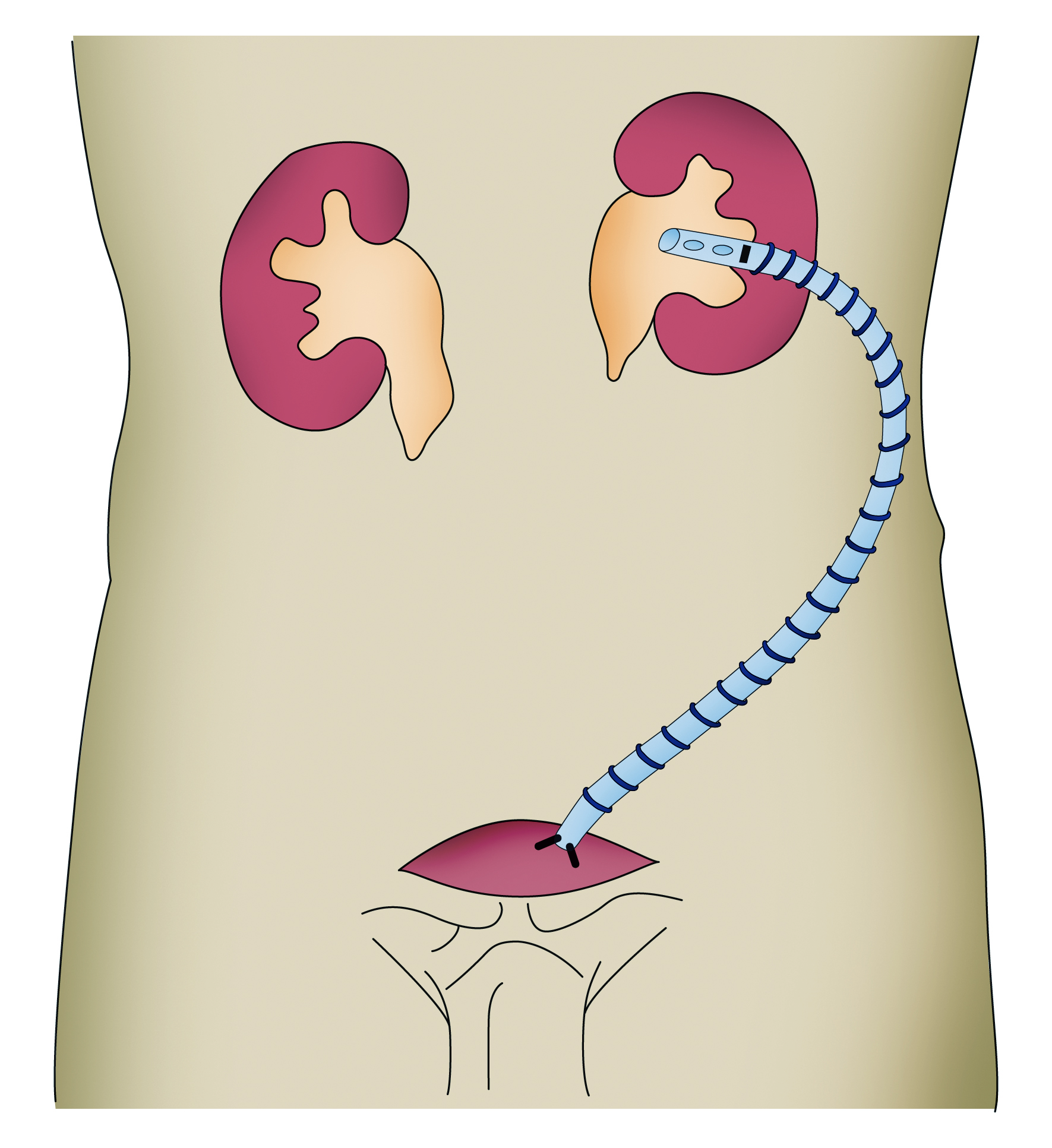 Our experience with Detour
Our experience consists of 27 cases of EAUD with Detour in 24 patients performed between 2016 and 2021.
Material and methods:
Mean age was 63.8±14 years (range 38-87, median 65 with 95% CI 58.24-69.32).
In 20 cases (74%) the indication was a MUO and in 7 cases (26%) a BUO.
Of the 20 cases (18 pts) with MUO: 10 (50%) had a cervical or ovarian cancer, 9 (45%) a colorectal cancer and 1 (5%) a desmoid tumor. In all oncologic patients, prognosis was more than 1 year even if 7 (38%) of them had an active disease that required cycles of radiotherapy or chemotherapy.
Of the 7 cases (6 pts) with a BUO: the cause was an iatrogenic lesion with failed reconstructive surgery in 5 cases and retroperitoneal fibrosis in 1 case.
Overall, previously, 19 cases (70%) had a nephrostomy and 8 cases (30%) a DJ or metallic stent that failed or was not tolerated.
Results:
Mean follow up was 18±12.6 months (range 1-40, median 18, 95%CI 13.4-23.6).
3 patients (12.5%) had a bilateral EAUD and 2 patients (8.3%) had a solitary kidney.
Interestingly, 56% of the cases had a positive urine culture and 37% a symptomatic UTI prior to EAUS.
The overall rate of complications was 52% (48% no complications, 11% Clavien I, 11% Clavien II, 22% Clavien IIIb, 4% Clavien IV, 4% Clavien V).
In 7 cases (26%) an explant of the Detour had to be performed due to infection or fistula to the bowel. All of the explants were in MUO and the patients had a history of recurrent symptomatic infection prior to the procedure.
Encrustation was observed in 4 cases (15%). LUTS were present in 5 cases (20%). In the 2 patients with solitary kidney an improvement of renal function was observed.
Role of Detour in the contemporary oncologic patient with MUO
Two main points have to be addressed regarding the MUO management:
The indication to perform a urinary diversion and the choice of the type of diversion.
Indication to perform a urinary diversion:
Considering the indication to perform a diversion, MUO is a common feature in a heterogeneous group of oncologic patients with significant differences in oncologic treatment options and prognosis. There is a distinct group of patients with untreatable malignancies who share a grave prognosis where ureteral obstruction is only a part of a more complex manifestation of metastatic disease. Frequently these patients have poor performance status and are immunosuppressed. Some studies have shown that urinary diversion in such patients might be an overtreatment as there is no clear clinical benefit in terms of survival. Furthermore, urinary diversion can be responsible of a dramatic reduction in terms of quality of life since many of them will spent almost half of their survival time after intervention in the hospital.
On the other hand, other patients with ureteral obstruction have better prognosis. Frequently, in such cases MUO is a consequence of both of the disease itself and of a surgical procedure or of systematic radiotherapy or chemotherapy. Patients within the latter group who are treated with urinary diversion usually live for longer periods and can be even rendered cancer free. In fact, recent epidemiological studies have underlined the declining mortality rates of colorectal and cervical cancer among others, two types of cancer that are frequently associated with MUO. Considering these data, it is not of surprise that the number of chronic oncologic patients requiring a permanent urinary diversion is increasing.
The choice of the type of diversion:
In such cases, quality of life becomes of central importance and the concept of palliative treatment of MUO has to be reconsidered, especially in younger patients with a longer life expectancy. The psychological burden of a long-term nephrostomy or ureteral stent with all the associated discomfort, difficult management, potential complications and the necessity of frequent substitutions becomes a tragedy in patients that have made considerable efforts to overcome all the adversities of cancer treatments and ultimately may have defeated cancer. In addition to all of this, there is the feeling of abandonment that patients feel when they are told that there are no other alternatives and that they must continue to live with their nephrostomies or stents.
In this context, MUO treatment with a permanent extra-anatomical stent is an option that can be considered in order to improve the quality of life and preserve kidney function. Despite this, the heterogeneity of these patients, the complexity of their medical history and the uncertainty of the prognosis make the decision difficult and personalized. EAUD is more a surgical implantation than an endoscopic insertion of a stent. Despite the wider diameter, there is a risk of encrustation and infection of the stent that may need an explant or a substitution with a further surgical procedure. Even if rare, severe complications have also been reported. Previous multiple surgeries especially associated with radiotherapy and a history of symptomatic UTIs with sepsis may play a role as potential risk factors for complications. For these reasons, the patients have to be accurately informed, prepared and followed with regular follow-up evaluations.
Despite these risks, into our and other groups experience, the benefits of extra-anatomical stents in terms of an important quality of life improvement outweigh the risks in selected patients.

References
Andonian S, Zorn KC, Paraskevas S, Anidjar M. Artificial ureters in renal transplantation. Urology. 2005 Nov;66(5):1109. doi: 10.1016/j.urology.2005.05.012. PMID: 16286144.
Azhar RA, Hassanain M, Aljiffry M, Aldousari S, Cabrera T, Andonian S, Metrakos P, Anidjar M, Paraskevas S. Successful salvage of kidney allografts threatened by ureteral stricture using pyelovesical bypass. Am J Transplant. 2010 Jun;10(6):1414-9. doi: 10.1111/j.1600-6143.2010.03137.x. PMID: 20553448.
Bigum LH, Spielmann ME, Juhl G & Rasmussen A. A qualitative study exploring male cancer patients' experiences with percutaneous nephrostomy. Scand J Urol, 2015, 49.2: 162-168.
Bynens BG, Ampe JF, Denys H, Oyen PM. Case report: relief of acute obstruction of the Detour subcutaneous pyelovesical bypass. J Endourol. 2006 Sep;20(9):669-71. doi: 10.1089/end.2006.20.669. PMID: 16999622.
Corrales M, Doizi S, Barghouthy Y, Kamkoum H, Somani B, Traxer O. A systematic review of long-duration stents for ureteral stricture: which one to choose? World J Urol. 2021 Jan 2. doi: 10.1007/s00345-020-03544-x. Epub ahead of print. PMID: 33386951.
Desgranchamps F, Cussenot O, Meria P, et al. Subcutaneous urinary diversions for palliative treatment of pelvic malignancies. J Urol 1995;154:367–70.
Desgranchamps F, Paulhac P, Fornairon S, et al. Artificial ureteral replacement for ureteral necrosis after renal transplantation. J Urol 1998;159:1830–2.
Ishioka J, Kageyama Y, Inoue M, et al. Prognostic model for predicting survival after palliative urinary diversion for ureteral obstruction: Analysis of 140 cases. J Urol 2008;180: 618–621.
Jabbour ME, Desgranchamps F, Angelescu E, et al. Percutaneous implantation of subcutaneous prosthetic ureter: long term outcome. J Endourol 2001;15:611–4.
Janitzky A, Borski J, Porsch M, Wendler JJ, Baumunk D, Liehr UB, Schostak M. [Long-term results for subcutaneous Detour® prosthesis for ureteral obstruction: experiences of implantation, aftercare and management of complications]. Urologe A. 2012 Dec;51(12):1714-21. German. doi: 10.1007/s00120-012-3039-7. PMID: 23095948.
Jurczok A, Loertzer H, Wagner S, et al. Subcutaneous nephrovescical and nephrocutaneous bypass: palliative approach to ureteral obstruction caused by pelvic malignancy. Gynae Obstet Invest 2005;59:144–8.
Khoo CC, Abboudi H, Cartwright R, El-Husseiny T, Dasgupta R. Metallic Ureteric Stents in Malignant Ureteric Obstruction: A Systematic Review. Urology. 2018 Aug;118:12-20. doi: 10.1016/j.urology.2018.01.019. PMID: 29408390.
Laso-García IM, Lorca-Álvaro J, Arias-Fúnez F, Díaz-Pérez D, Santiago-González M, Duque-Ruiz G, Burgos-Revilla FJ. Long-term results of the treatment of complex ureteral stenosis with extra-anatomic ureteral bypasses. Cent European J Urol. 2020;73(2):213-219. doi: 10.5173/ceju.2020.0008. PMID: 32782842; PMCID: PMC7407785.
Lloyd SN, Tirukonda P, Biyani CS, Wah TM, Irving HC. The detour extra-anatomic stent–a permanent solution for benign and malignant ureteric obstruction? Eur Urol. 2007 Jul;52(1):193-8. doi: 10.1016/j.eururo.2006.11.008. PMID: 17126477.
Minhas S, Irving HC, Lloyd SN et al. Extra-anatomic stents in ureteric obstruction: experience and complications. BJU Int 1999;84:762–4.Misra S, Coker C, Richenberg J. Percutaneous nephrostomy for ureteric obstruction due to advanced pelvic malignancy: have we got the balance right? Int Urol Nephrol. 2013 Jun;45(3):627-32. doi: 10.1007/s11255-013-0458-3. PMID: 23666587.
Muller CO, Meria P, Desgrandchamps F. Long-term outcome of subcutaneous pyelovesical bypass in extended ureteral stricture after renal transplantation. J Endourol. 2011 Aug;25(8):1389-92. doi: 10.1089/end.2011.0085. PMID: 21774680.
Popova Maria – How Kepler Invented Science Fiction and Defended His Mother in a Witchcraft Trial While Revolutionizing Our Understanding of the Universe. brainpickings.org 2021.
Prentice J, Amer T, Tasleem A, Aboumarzouk O. Malignant ureteric obstruction decompression: how much gain for how much pain? A narrative review. J R Soc Med. 2018 Apr;111(4):125-135. doi: 10.1177/0141076818766725. PMID: 29648512; PMCID: PMC5900840.
Sampogna G, Grasso A, Montanari E. Expandable metallic ureteral stent: indications and results. Minerva Urol Nefrol. 2018 Jun;70(3):275-285. doi: 10.23736/S0393-2249.18.03035-7. PMID: 29595037.
Schmidbauer J, Kratzik C, Klingler HC, Remzi M, Lackner J, Marberger M. Nephrovesical subcutaneous ureteric bypass: long-term results in patients with advanced metastatic disease—improvement of renal function and quality of life. European urology. 2006 Nov 1;50(5):1073-8.
Shekarriz B, Shekarriz H, Upadhyay J, et al. Outcome of palliative urinary diversion in the treatment of advanced malignancies. Cancer 1999;85:998–1003.
Sountoulides P, Pardalidis N, Sofikitis N. Endourologic management of malignant ureteral obstruction: indications, results, and quality-of-life issues. J Endourol. 2010 Jan;24(1):129-42. doi: 10.1089/end.2009.0157. PMID: 19954354.
Torre LA, Siegel RL, Ward EM, Jemal A. Global Cancer Incidence and Mortality Rates and Trends–An Update. Cancer Epidemiol Biomarkers Prev. 2016 Jan;25(1):16-27. doi: 10.1158/1055-9965.EPI-15-0578. PMID: 26667886.
Wong LM, Cleeve LK, Milner AD, Pitman AG. Malignant ureteral obstruction: Outcomes after intervention. Have things changed? J Urol 2007;178:178–183.
Wrona AJ, Zgajewski J, Kopeć N, Chodor D, Kopcza P, Klekot S. Subcutaneous pyelovesical bypass – Detour bypass – as a solution for ureteric obstruction. Cent European J Urol. 2017;70(4):429-433. doi: 10.5173/ceju.2017.1397. PMID: 29410898; PMCID: PMC5791398.
Yazdani M, Gharaati MR, Zargham M. Subcutaneous nephrovesical bypass in kidney transplanted patients. Int J Organ Transplant Med. 2010;1(3):121-4. PMID: 25013577; PMCID: PMC4089232.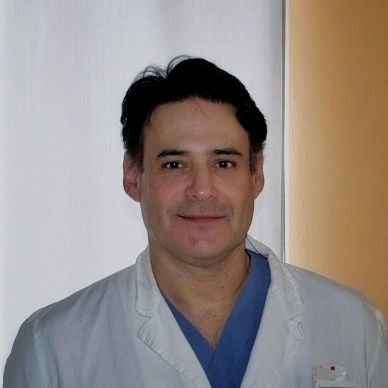 The author
2021 by Dr. Ioannis K. GOUMAS Head of Urology, Clinical Institute Beato Matteo, Dept of Urology, Milan, ITALY
These articles may interest you
Connect with Coloplast IU